Harry Kane reject Real Madrid!
Harry Kane: Spurs striker not for sale, says Pochettino
Mauricio Pochettino believes Harry Kane's "passion" for Tottenham would convince the striker to reject Real Madrid's riches if the Spanish giants come calling.
Kane has been linked with a summer move to Real this week as Los Blancos look to usher in a new era under coach Zinedine Zidane, while Manchester United and Bayern Munich were credited with an interest in the 22-year-old last year.
Real could offer Kane a significant increase on his reported £35,000-a-week wages and the chance to regularly compete for the biggest trophies in world football.
Kane has been with Spurs since he was nine years old and has previously spoken of a desire to see out his career at White Hart Lane.
Pochettino believes the England international, who he earlier described as one of the best strikers in the world, is not motivated by fame or fortune but rather a love for his boyhood club.
"Yes, it's possible. Why not?" the Spurs coach said in a news conference when asked if Kane could feasibly turn down an offer from the Bernabeu.
"Harry Kane's dream is to play for Tottenham and you feel his passion for the club, for the shirt. In football, sometimes it's about business and money but for a lot of players, it's about passion, heart and feeling. Harry wants to stay with us and he has repeated that several times.
"We have a very good relationship and this is the truth. We don't want to sell, and he wants to stay with us and it's very good news for us, our supporters and for the club."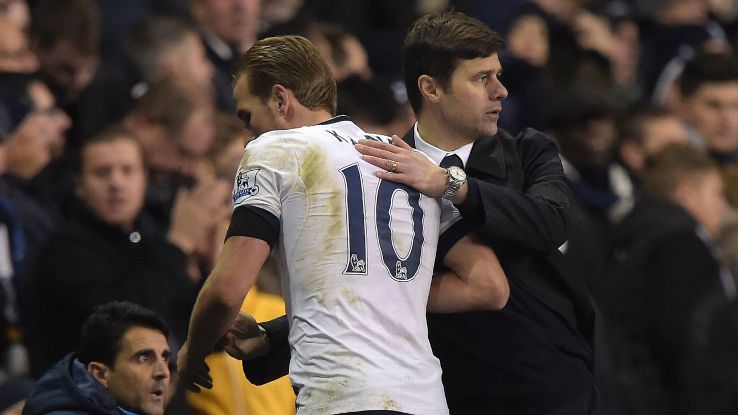 Harry Kane of Tottenham Hotspur gets a hug from Mauricio Pochettino during the Premier League match between Tottenham and West Ham United at White Hart Lane on November 22, 2015 in London, England (Photo by Arfa Griffiths/West Ham United via Getty Images)
Harry Kane has been with Spurs since he was a child and Mauricio Pochettino says he doesn't want to leave.
Pochettino's young squad are fourth in the Premier League with 36 points from 20 matches, six shy of leaders Arsenal.
Although this is Spurs' second lowest points total from 20 games in the last seven seasons, there is a sense that Pochettino is building a squad capable of challenging at the very top, led by Kane and the likes Eric Dier and Delli Alli.
The Argentine believes the club's "unbelievable" potential is another factor keeping Kane focused but admitted more hard work is needed if the forward is maintain his current mindset.
"The potential of the club is unbelievable," Pochettino continued. "In the last year-and-a-half, he started to settle here, he has passion for the club and he respects and feels the badge. It's very important. We need to work hard to keep this feeling for the present and the future."
Harry Kane reject Real Madrid!
Reviewed by
admin Ucop
on
3:42 AM
Rating: