Malaysian Astro SuperSport presenter, Reem Shahwa being appointed LFC TV's international presenter
Exclusive: Reem Shahwa revels in honour of being appointed LFC TV's international presenter
The Astro SuperSport presenter has been appointed as the new international presenter for the official Liverpool Football Club TV
EXCLUSIVE
Malaysian television presenter Reem Shahwa expressed her delight after she was appointed as Liverpool TV's new international presenter last week.
Reem, who also works for Astro SuperSport, is the first ever Malaysian correspondent to be given the opportunity to work with the media department of Liverpool FC, and she is ecstatic about the opportunity.
Reem said, "I've dreamt of this since I started out in the sports journalism industry! It's a culmination of two things I'm passionate about; broadcasting and Liverpool.
"It's also one of those things many people have asked me before - won't it be cool if you got the chance to work for LFC TV? And now I can coolly and proudly say, I DO!"
Though she is primarily known for her role in the television show 'Football Overload', her football blog, called 'the KOP Salad', led her to this opportunity.
The Head of International Digital Development for Liverpool FC, Paul Rogers, revealed that the blog alerted him of her, while they were on the hunt for a new international presenter. They then proceeded to watch clips of her on YouTube, which led to the offer they made to Reem.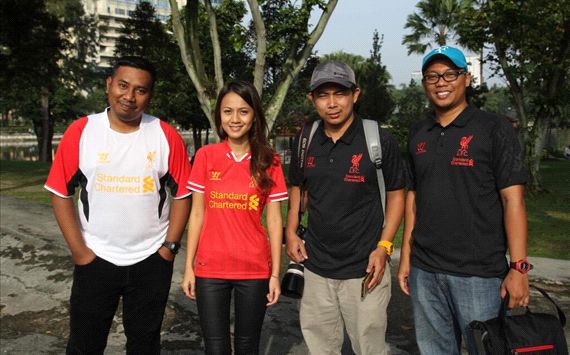 Reem alongside the Liverpool FC Malaysia team.
When asked about the blog, Reem said: "I've always loved to write and had attempted two blogs previously, which I've put the proverbial lock and chain on now!
"I thought I'd give blogging another go with a focus skewed towards the club I love, mixed with content on my personal life, hence the name Kop (what Liverpool fans call themselves) and Salad (A mixture of everything else)."
Since the appointment, Reem has already recorded her maiden show, which was done on the 3rd of January. The show was "KOP: 10 Games of 2013" and it sees her counting down the 10 best Liverpool games throughout last year.
Paul Rogers also confirmed that Liverpool TV will be producing more shows with Reem, using Kuala Lumpur as the backdrop, and this is something Reem is extremely excited about.
"I think it's great for Malaysian fans to see the country being represented on the channel, since we have one of the biggest fan bases in the world. I will certainly do my best to live up to the expectations.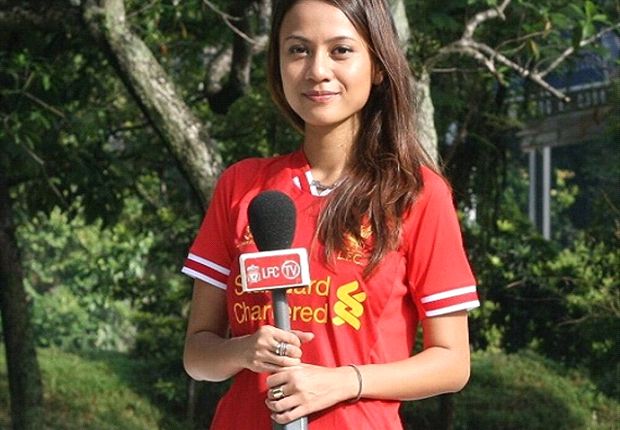 Reem is a die-hard Liverpool fan.
"On a personal level, I feel it'll develop my knowledge and understanding of the club more, seeing what goes behind the scenes."
We posed one final question to Reem and it was on Liverpool's title chances this year. The Reds have had a terrific campaign so far, and Reem is confident that they would at least be within the top three teams at the end of the season.
"We have a home advantage going into the 2nd half of the season, as Anfield will be hosting the big teams like Chelsea, Arsenal and Manchester City. So I'd say, a top 3 finish!"
Malaysian Astro SuperSport presenter, Reem Shahwa being appointed LFC TV's international presenter
Reviewed by
admin Ucop
on
1:44 AM
Rating: