Barcelona to sign Monchengladbach keeper Marc-Andre ter Stegen to replace Victor Valdes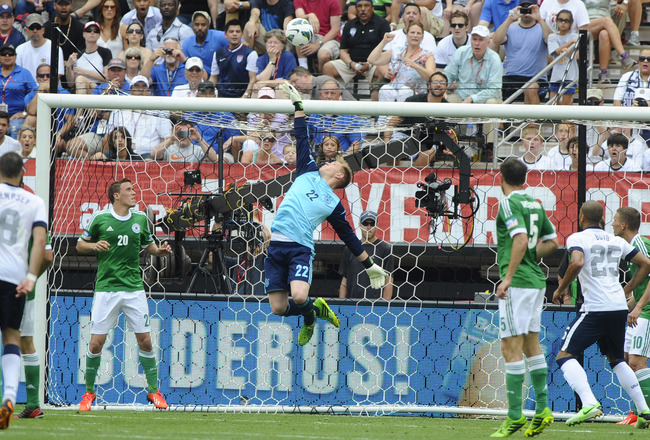 Barcelona will sign German goalkeeper Marc-Andre ter Stegen at the end of the season to replace Victor Valdes who is moving to Monaco.
After 11 years of Valdes, Barça have been linked with a host of keepers including Celtic's Fraser Forster and even an attempt to snatch Thibaut Courtois, currently on loan at Atletico Madrid, from Chelsea.
But sporting director Andoni Zubizarreta has chosen the Borussia Monchengladbach keeper and according to Spanish radio station Cadena Ser a fee of 8m euros has already been agreed.
Moving: Monchengladbach keeper Marc-Andre ter Stegen will move to Barcelona at the end of the season
Loyal servant: After 11 years of service at the Nou Camp, Victor Valdes will move to Monaco next season
Talented pair: Atletico Madrid's Thibaut Courtois (pictured with Gareth Bale) on-loan from Chelsea and Celtic goalkeeper Fraser Forster (right) have both been linked to Spanish giants Barcelona in the past
The highly-rated 21-year-old has already represented his country three times, though much like Valdes who he will replace, he has a formidable opponent for the national number one jersey in Manuel Neuer.
Barcelona will pay a further 2m euros for Stegen if he establishes himself and wins La Liga and the Champions League.
The signing will bring to an end speculation over Forster and Courtois but still leave the door open to Pepe Reina currently on loan at Napoli. Reina has confirmed that he will not return to Liverpool at the end of the season and Barcelona want him to replace Jose Pinto as their experienced number two.
Competition: Goalkeeper ter Stegen will have a tough test dislodging Manuel Neuer (left) as Germany's No 1
Atletico Madrid are likely to fight Barça for Reina's signature. They want him to emulate his father Miguel who played in goal for them, and fill the gap left by Courtois who will return to Chelsea at the end of the season.
Pepe Reina who played 395 times for Liverpool has also not ruled out staying with Rafa Benitez in Italy.
Decisions: Pepe Reina, on loan at Napoli from Liverpool, may stay with the Italian side past this season
Barcelona to sign Monchengladbach keeper Marc-Andre ter Stegen to replace Victor Valdes
Reviewed by
admin Ucop
on
7:54 AM
Rating: