'Boy Wonder' Alexis Sanchez to lead the front lines with Neymar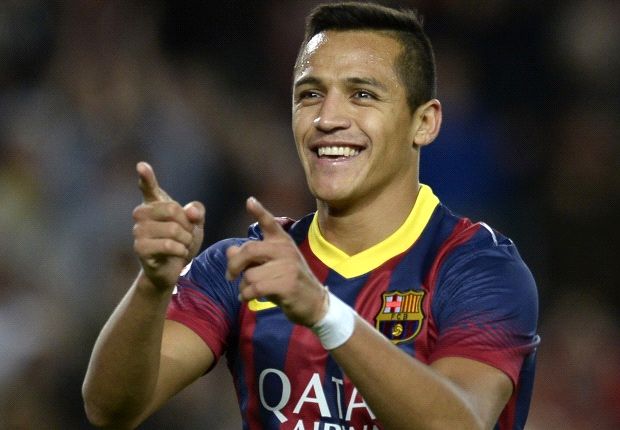 With Lionel Messi on the sidelines with a thigh injury, El Loco pips Alexis Sanchez as the man to lead the front lines with Neymar for the Catalans.
Barcelona have been hit by a series of injuries as of late. The latest is right-back Dani Alves, who suffered a torn calf muscle while on duty with Brazil.
The Catalans already have five players out of action; Lionel Messi (thigh), Victor Valdes (calf), Gerard Pique (groin), Jordi Alba (thigh) and Cesc Fabregas (knee).
Pique and Fabregas, however, may make a return this weekend in a Primera Liga match against Granada at Nou Camp.
Barca manager Gerardo 'Tata' Martinez must be scratching his head real hard and praying that there will no more injuries.
Instead, the experienced Argentine tactician is hoping for some good news and he surely has one.
The performance of attacker Alexis Sanchez, also known as 'El Nino Maravilla' or 'Boy Wonder.'
The Chilean, who can either play as a winger or central striker, is in menacingly red-hot form with goals to show as well.
And this is surely handy especially with Messi out for six weeks.
Barca need another attacker to assist Neymar, who is also enjoying a fine form and already an influential figure in attack despite just joining the club last summer.
It was the 24-year-old Sanchez who destroyed England as Chile defeated England 2-0 at Wembley last Friday by scoring both goals.
Sanchez, who stands at just 1.69m, has now scored 22 goals for Chile from 62 games.
Fabregas is delighted with Sanchez's latest exploits and the former Arsenal captain is backing the Chilean to be a big success at Barca.
"I think Alexis has all the makings of a massive star at Barca and in the world of football," Fabregas said.
"He is a good lad and a good friend of mine."
Yes... Sanchez does have the potential to be a massive star for Barca and he is poised to play a big role for Chile in Brazil 2014 as well.
Anyway, with Alves' problem, Barca have suffered alarmingly a total of 15 muscle injuries since the start of the season - the highest figure in the last three years.
Marca reports out of a grand total of 21 injuries since training began under the orders of Martino, only six of them have been the results of knocks, while the rest have been the result of muscle problems!
This figure is higher than the previous two seasons.
Last season, under Tito Vilanova, there were six injuries of this nature between August and November, while in 2011-12 under Josep 'Pep' Guardiola , Barca suffered 11 muscle injuries in the first four months of the campaign.
In other interesting news, Real Madrid are reportedly celebrating Cristiano Ronaldo's qualification for the 2014 World Cup finals.
It was crucial for Real that their superstar be present at the Brazil showcase, considering Gareth Bale missed out on a place at the tournament and that Barca's superstars Messi and Neymar had already qualified.
Real were terrified by the possibility of not having either of their superstars in Brazil while Barca showcased two of the world's best players. That would have been a serious blow to the club's international image.
And what a stunning hat-trick by Ronaldo in Portugal's 3-2 win over Sweden in the return leg playoff at the Friends Arena on Tuesday.
That feat plus all those goals he scored earlier for Real has many talking about Ronaldo winning the Ballon d'Or this time.
But Barca and Argentina international Javier Mascherano has a different opinion.
He says the winner of the Ballon d'Or should be awarded for a year's work, not just a month.
Is this a dig at Ronaldo?
Adios!
'Boy Wonder' Alexis Sanchez to lead the front lines with Neymar
Reviewed by
admin Ucop
on
4:44 AM
Rating: