Ten-Men Bayern Turn Things Round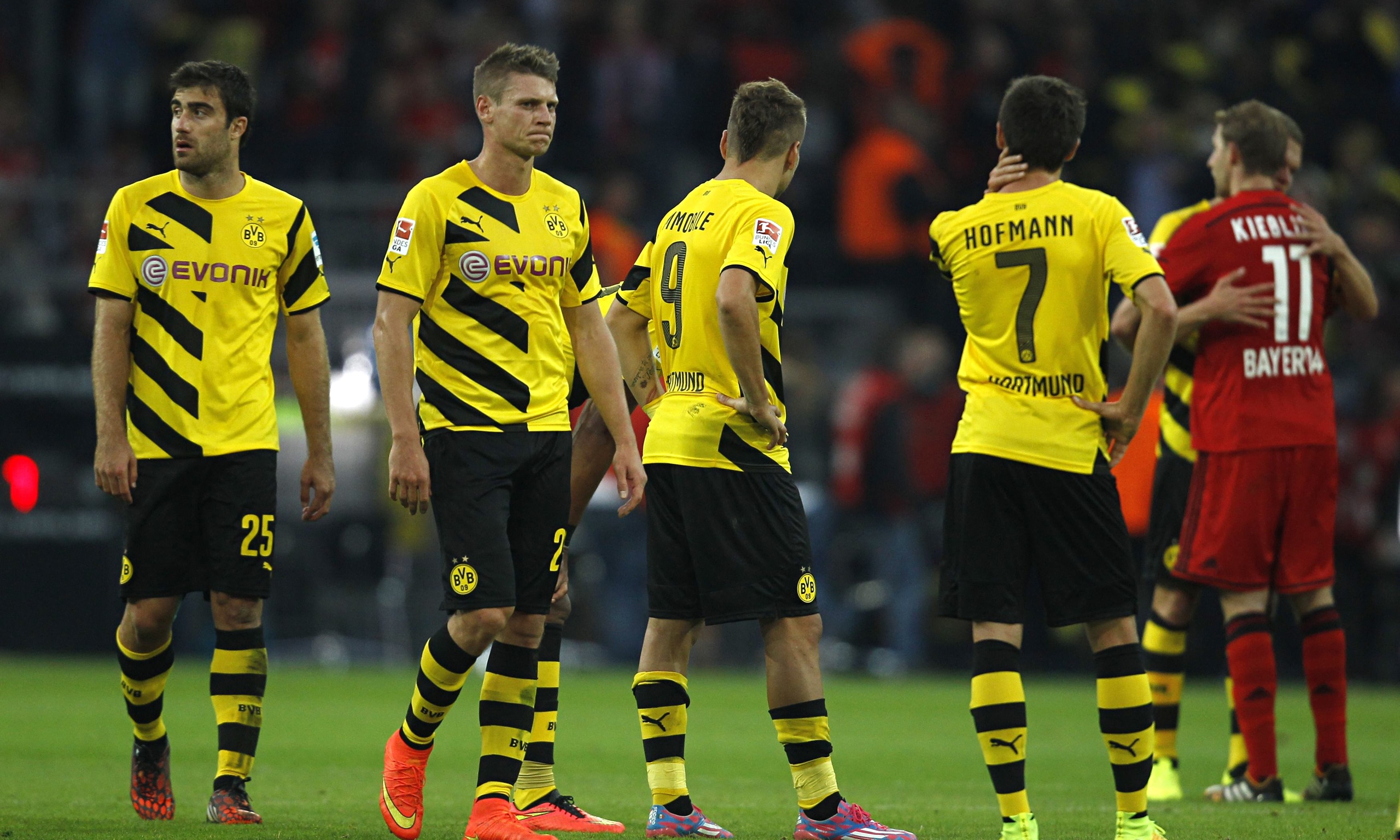 Dortmund 1-1 Bayern

Bayern Munich staged a great comeback after going a goal down and having captain Mark van Bommel sent off in the first half. A Blaszczykowski goal put them one down, before van Bommel saw red. A Tim Borowski strike however gave them deserved share of the spoils.
Dortmund were able to make a great account of themselves in front of a sold-out home crowd, opening their account after just eight minutes on a terrific shot by Jakub Blaszczykowski. Following Mark van Bommel's sending off on 23 minutes, it seemed as though Dortmund were in the driver's seat.
Bayern were not to be denied, however, as a great second-half performance saw Tim Borowski equalize on 74 minutes. After Borowski's goal, both sides seemed content with a draw as the match slowly came to a close.
FIRST HALF
Dortmund's tactics were made apparent from the start: it was their goal to make space on the break and do everything they could to break up Bayern's offensive rhythm.
While Dortmund officially played a 4-4-2 formation, they defensively played with all eleven players. However, every time Dortmund were able to recover the ball, their offence sprang to life on the counterattack.
After just eight minutes, right winger Blaszczykowski (also known as Kuba) centered the ball to Nelson Valdez, who returned the favour, setting up a first-touch shot that just made it into the left side of the goal. Kuba's shot, kicked with the outside of his right foot, was spot-on and would have made Franz Beckenbauer proud.
Bayern soon looked for a response, but were largely unable to find space. They were almost able to pull an equalizer out of thin air as Andreas Ottl volleyed from just outside the 18-yard box. Ottl's shot was partially blocked, causing the ball to dip sharply as it approached the goal. Dortmund keeper Marc Ziegler did well to tip the ball over the bar. Unfortunately for Bayern, nothing materialized of the ensuing corner kick, a recurring theme of the first half.
The Bayern defence continued to look shaky on 14 minutes, as a free kick towards the far post slipped into the centre of the box, where it remained for what seemed like an eternity before Mohamed Zidan took a bicycle kick that went just over the bar. Fortunately for Bayern, Zidan was penalised for dangerous play, but it was already made obvious that Bayern's defence was napping.
Things got worse for Bayern as captain Mark van Bommel received his marching orders on 23 minutes, following an elbow to the side of Tamas Hajnal's head. In fairness to van Bommel, his sending off was rather questionable: his arm was caught in front of him as Hajnal cut across his path.
Having the extra-man advantage, Dortmund sought the knock-out blow early. On 26 minutes, the Bayern defence was once again caught napping as Valdez was given enough space to volley from just inside the center of the box, his shot missing just over the bar.
The two sides proceeded to trade blows, as on 29 minutes, Bayern striker Luca Toni headed on goal following a Christian Lell cross, only to be called for a foul. In the 36th minute, a Bayern corner left the ball loose inside the penalty area. Lucio seized on his opportunity, firing on goal, only to see his shot blocked.
Just a minute later, Dortmund fired the ball into the penalty area, and the Bayern defense once again looked confused. With just one Dortmund player to defend, four Bayern defenders as well as goalkeeper Michael Rensing failed to clear the ball for several seconds. While Oliver Kahn would have picked up the loose ball, Rensing waited for a slow defense to make the clearance, a task that took a surprisingly long time.
Moments later, the home side nearly doubled the advantage, Kuba crossing to Valdez for a header that sailed just wide. In a final threatening moment before the end of the half, Lucio's clearance was blocked, giving Zidan and Valdez a clear opportunity.
With Rensing charging off his line, Valdez fired a shot that Lucio was barely able to deflect. If not for Lucio's challenge, Valdez surely would have put his side ahead 2-0.
SECOND HALF
Bayern coach Jürgen Klinsmann started the second half opting to field midfielder Tim Borowski in place of ineffective striker Miroslav Klose. Borowski made his presence felt early, as he was played through by a perfect Luca Toni ball only to fire just wide.
The visitors clearly dominated the opening quarter hour of the second half, this time keeping control of the ball as the home side was unable to break the visitors' rhythm. On 55 minutes, Philipp Lahm played the ball into the box for Borowski, whose ball to Toni was intercepted by defender Mats Hummels. Just moments later, another Lahm cross found Daniel van Buyten. who missed just wide of the target.
The Bayern back line continued to struggle, however, as Kuba raced around the entire Bayern defence, and shot on goal only to see it saved. The resulting corner saw Kehl nod on for Kringe, whose shot was cleared off the line by Schweinsteiger.
Bayern continued to press the home side, opting to put their best foot forward instead of trying for damage control. Following a free kick, Bastian Schweinsteiger found a loose ball at his feet and volleyed just over the bar on 68 minutes.
In the 72nd minute, Toni was played through into the penalty area, although he was closely defended by Subotic. The American defender was far more aggressive than necessary, as he pulled Toni's shirt and proceeded to shove the Italian to the ground despite Toni always having a very difficult shooting angle. In spite of the Subotic' clear foul, Toni was carded for a dive, and it seemed as though Dortmund would hold on for victory.
Just two minutes later, substitute Toni Kroos sent an out swinging corner deep, which Lucio nodded to the center. Tim Borowski latched onto the ball and buried it into the netting for the equalizer.
The two sides almost appeared content with the result of the match, as neither made many aggressive moves. Dortmund threatened once or twice late, but never took a shot that went near the target.
In the end, Dortmund's ability to score a fantastic early go-ahead goal was just what they needed. The boost in confidence that came from Kuba's goal, coupled with the roar of a sold-out crowd of 81,266 energized Dortmund, whose defense was absolutely superb.
Dortmund were able to use aggression and precise timing to throw the visitors off their game.

Bayern can be disappointed by dropping points again, but a win in Dortmund is always a steep uphill struggle, and Klinsmann's side can be pleased by their having managed a point after going a goal and a man down early in the match.
Goals
Blaszczykowski (8')
Borowski (74')
Borussia Dortmund: Ziegler - Rukavina, Subotic, Hummels, Schmelzer - Blaszczykowski (Owomoyela, 77'), Kehl, Hajnal, Kringe - Zidan (Sadrijaj, 64'), Valdez
Bayern: Rensing - Lahm, van Buyten, Lucio, Lell - Schweinsteiger, van Bommel, Ottl, Altintop (Kroos, 64') - Klose (Borowski, 46'), Toni (Podolski, 77')
Yellow Cards: Rukavina (35') Hummels, 68') Toni (72'), Kroos (81'), Lahm (85') / van Bommel (20', 23')
8′ Jakub Blaszczykowski
74′ Borowski
Ten-Men Bayern Turn Things Round
Reviewed by
admin Ucop
on
12:02 AM
Rating: