Serbia 2008 Olympic Football Squad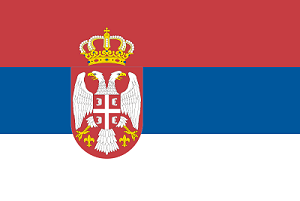 Serbia's Men's Olympic Football squad for Beijing 2008:
Coach:
Miroslav Đukić (42)
Goalkeepers:
Vladimir Stojković (24) (Sporting Lisbon, Portugal)
Saša Stamenković (23) (Red Star Belgrade)
Željko Brkić (22) (FK Vojvodina)
Defenders:
Pavle Ninkov (23) (Red Star Belgrade)
Nenad Tomović (20) (Red Star Belgrade)
Gojko Kačar (21) (Hertha Berlin, Germany)
Slobodan Rajković (19) (FC Twente, Netherlands)
Duško Tošić (23) (Werder Bremen, Germany)
Aleksandar Kolarov (22) (Lazio, Italy)
Ivan Obradović (19) (FK Partizan)
Midfielders:
Milan Smiljanić (21) (Espanyol, Spain)
Nikola Gulan (19) (Fiorentina, Italy)
Ljubomir Fejsa (19) (FK Partizan)
Predrag Pavlović (22) (FK Napredak Kruševac)
Vladimir Bogdanović (21) (Red Star Belgrade)
Zoran Tošić (21) (FK Partizan)
Dušan Tadić (19) FK (Vojvodina)
Stefan Babović (21) (Nantes, France)
Strikers:
Đorđe Rakić (22) (Red Bull Salzburg, Austria)
Filip Đorđević (20) (Nantes, France)
Serbia have sent a youthful squad to the Olympics with an emphasis on developing talent and keeping the youth team together as opposed to putting out the best team to help win a medal. However, barring any upsets this team should finish above Australia and Ivory coast in Group A and qualify alongside Argentina for the knockout round.
Back to 2008 Olympic Football Squads.
Serbia 2008 Olympic Football Squad
Reviewed by
admin Ucop
on
7:52 PM
Rating: